The Delaware SeaSide Railroad Club is a 501(c)(3) 

non-profit organization. whose mission is to preserve and promote the history and hobby of model railroading.

Our club activities include:

School projects - teaching school children how to design and build a model railroad.

Annual Train Shows in Roxanna, May and September

Clubhouse Operating Displays in O, S, HO, N and G-Gauges Open to the Public

Operating O-Gauge modular trains at various venues around the area

Delaware SeaSide Railroad Club

36668 DuPont Boulevard (Route 113), Selbyville DE 19975 

Mailing Address: P. O. Box 479 Ocean View, Delaware 19970     

Phone:  302-448-5654



Spring Fling Toy & Train Show

Thanks to everyone who attended the Spring Fling Toy & Train Show last Saturday, May 7th. ! It was a huge success for the Delaware Seaside Railroad Club and for the many independent vendors who participated. We are especially grateful for all of the work done by the Club volunteers who set up the show, staffed the various event tables, operating layouts and the snack bar and cleaned up afterwards. 

Our next event will be the Train-Load Yard Sale on May 28th. This is an outdoor event at our Clubhouse in Selbyville. More details will follow.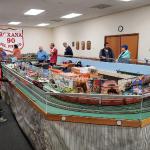 Bethany Beach July 4th Parade

Thomas the Tank Engine in Action!

Happy Independence Day!

Save the Date!

Train-Load Yard Sale

Saturday, September 3, 2022

Indoor and Outdoor at the DSRC Clubhouse

Click on the Engine more details